Cake Bash/Paint Splash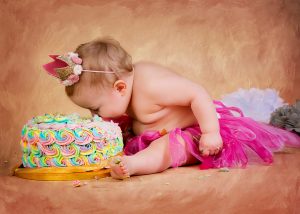 Our Cake Smash and Paint Bash sessions are a fun and messy way to celebrate your little one's first, second or even their third birthday.
Not only will your little one have lots of fun, you'll have some amazing images, that you'll treasure for many years to come. Capture your baby's surprise, curiosity and delight as they tear into their first taste of sugar or their glee as they ooze paint between their little fingers and toes. Our Cake Smash and Paint Bash sessions are a great way to express your baby's unique personality in a relaxed and carefree way.  They are usually done just in time to be used for birthday party invitations or to mark this birthday milestone. It is an experience that most parents will never forget and is lots of fun for everyone involved.
We pride ourselves on taking care of everything – from the cake or paint, to the styling and the outfits. We have a varied selection of props, meaning we have something to suit everyone. It's messy but don't worry it's all part of the fun!
Cake Bash and Splash (includes;) Creative fee only £45.00
Session – 90 mins

Mini Fine Art / Portrait session

Cake and Decorations

Bath set up after the smash

Use of our TuTu's / outfits / themed nappy covers (or jeans/dunagrees/shorts for older children)

24 hour password protected online gallery

Selection of prints / high resolution digital files with full print release available 

(depending on your choice of package)
Paint Bash and Splash (includes;) Creative fee only £45.00
Session – 90 mins

Mini Fine Art / Portrait session

Paints, canvas and easle (to take home when the masterpiece is finished!)

Bath set up after the smash

Use of our TuTu's / outfits / themed nappy covers (or jeans/dunagrees for older children)

24 hour password protected online gallery

Selection of prints / high resolution digital files with full print release available 

(depending on your choice of package)
Book a Session